Presumptive Republican Presidential Nominee Donald Trump has been eating some crow lately for tweeting a picture of his Presumptive Democratic Presidential Rival Hillary Clinton (an actually rather flattering picture, you have to admit) against a background of cash next to a six-pointed star with the text "Most Corrupt Candidate Ever!" After critics quickly pointed out that the six-pointed star overlaying money immediately invoked deep anti-Semitic archetypes, Trump deleted the original and retweeted it with a red circle around the text, but with some of the original points still peeking out (the Trump campaign apparently has not yet been able to hire versatile Photoshop experts from any of the Trump enterprises to recycle Trump's campaign loans to himself). In the meantime, the original picture has been traced back to a white supremacist and anti-Semitic website, according to research by mic.com.
For anyone following the rise of right-wing populism in Austria, this deliberate media provocation must seem like déjà vu all over again. In 2012, H.-C. Strache, head of the FPÖ, the Freiheitliche Partei Österreichs (Austrian "Freedom" Party, but more accurately translated as free-market
or libertarian), posted this picture on his Facebook pages:
The irony of this incident, aside from the anti-Semitism, is that it was exactly Strache's predecessor as FPÖ chairman, Jörg Haider, who was almost single-handedly responsible for post-war Austria's greatest bank failure, the Carinthian crony-capitalist Hypo-Alpe-Adria Bank, leaving the Austrian Federal Government to pick up the billions of Euros in bad debt. And there was not a Jewish banker in sight in this purely 'Arian' scandal.This failure has been likened to the 1931 failure of the Creditanstalt, which, as all readers of this blog will know, was the Lehman Bros. of the Great Depression.
Both populist politicians strenuously denied intentional anti-Semitic dog-whistling (which in Strache's case was so unsubtle as not even to merit the designation dog-whistle, but rather was a prime candidate for the Stürmer prize of the year) and quickly taken down in the original form under protests of innocence and Ahnungslosigkeit.
1934 front page of Nazi Der Stürmer newspaper, the archetype of modern anti-Semitic propaganda. Headline: "Jewish Plot to Exterminate Non-Jewish Humanity Revealed!" The plotters have certainly been taking their time, but that hasn't prevented anti-Semites from constantly recycling the charge, particularly after financial crises.
But while one could argue that this kind of anti-Semitism is so deeply embedded in the world's collective, Jungian archetypical subconscious that there is no hope of exterminating it even after the Holocaust, there is still a problem here. Most contemporary right-wing populist parties, whatever their original roots, have been making efforts to distinguish themselves from the traditional anti-Semitic right. After all, there are much more promising targets for populist discontent today, such as 'radical Islam,' or all Muslims, or Mexicans, or even Polish plumbers. 'Enlightened' right-wingers like the FN's Marine Le Pen have gone to considerable lengths to distance herself from her father's traditional anti-Semitism. And there are powerful and well-established Jews in their countries who, when they are not busy plotting to exterminate the rest of humanity, might just have some spare change (think Sheldon Adelson) and political sympathies for right-wing populism .
Even the FPÖ's H-C Strache has gone to the trouble of visiting Israel's Yad Vashem Holocaust Remembrance Center and try to establish ties with right-wing Israelis, on common anti-Islamic grounds. Yet to demonstrate his respect, instead of a Jewish yarmulke he wore the cap of his German-national, duelling fraternity, seen by many right-wingers as a clever back-handed provocation.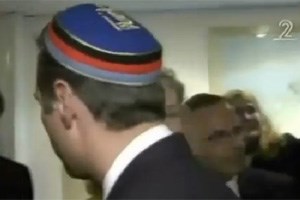 Nor does anyone think that Donald Trump, who together with his father made his fortune by renting apartments to predominantly Jewish tenants (while claiming to be of Swedish rather than German descent) and by being a crony of the Brooklyn Democratic Party, with which the Jewish Mayors Abe Beame and Ed Koch were associated, is personally anti-Semitic. Nevertheless, these dog-whistle and not so dog-whistle exercises in anti-Semitism cannot be unintentional (no one is that stupid), but they have one thing in common that populists love: publicity. Deniable publicity to the general public, winking and pandering publicity to their extreme-right audiences, but in any case free publicity.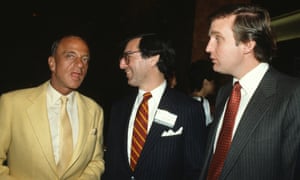 From left: Roy Cohn, journalist Ed Kosner and Donald Trump. Photograph: Sonia Moskowitz/Getty Images